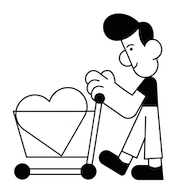 Spidwit Pricing
Is Spidwit free?
Spidwit is a freemium service. There is a free version with limited features and content: you will get a maximum of two contents per day, you can choose just one topic and you will be allowed to configure only a social media page. In the free version you will not be able to use the virtual assistant and the graphic templates.
Can I buy just one month?
Spidwit does not have an automatic renewal that keeps you stuck on the platform. This means that at the end of your monthly or yearly plan you will have to manually renew.
If you don't take any action your plan will automatically expire at the end of the period.
Can I get a custom plan?
If you need a custom number of topics, social media accounts and features, just contact us. We'll find a solution for you.
...what if I need more topics or more social pages?
You can upgrade whenever you want. You will pay just the prorated pricing and you can immediately take advantage of the features you need.